As the Vegan Weekend draws to a close, I am breathing a sigh of relief that:
a) it's over
and
b) it was a success!
I have never in my entire life (combined) baked, cooked, and organised meals like I did this weekend.  Seriously, I never knew it was so time consuming!  I had no time to do anything this weekend except plan ahead for the next meal.
Maybe it's because I'm a spastic in the kitchen, and I just have to get used to things.  Maybe it's because of the meals I was choosing.
In any case, they all turned out great, and here they are, if you are interested:
Friday Night Mini Pizzas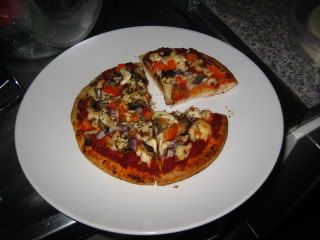 made with ready-made vegan crusts from the Nature Winkel, and topped with peppers, onions, mushrooms, tomato sauce, and soy mozzerella cheese!
Saturday morning I got up and started making bagels. That's right, I made bagels. Vegan Wheat Bagels.
And they were pretty fucking good. I added roasted garlic and onions to them, and we topped them with soy cream cheese, hummus, and a Sundried Tomato, Caper, and Olive Tapenade that I just so happened to whip up while the bagel dough was rising.
Also while the dough was rising, I started Chai Applesauce,
which turned out brilliantly, and with the leftover juice in the pot I made a Warm Chai Apple Cider, seen here with my bagels.
No rest for the weary!!! so for lunch I marinated some veggies (mushrooms, sugarsnap peas, peppers, red onions, tomaotes and pineapples) for Veggie Shish Kabobs on our new teensy grill. I also whipped up some Potato Salad and served these with store-bought Couscous (to die for).
Have you ever seen such pretty colorful kabobs?!?!
Also, somewhere in here I managed to squeeze in some Oatmeal Breakfast Bars to snack on.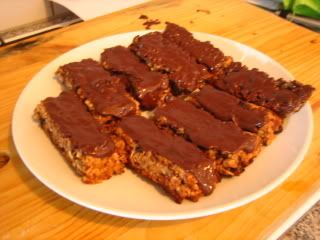 I'm telling you people, I was BUSY. Absolutely nothing except cooking and baking this weekend.
That night, for a snack, I made us some Orange Creamsicle Shakes made from frozen orange juice and soy yogurt. It was the only thing that I was disappointed in all weekend.
I didn't follow any recipe, though, I just kind of threw it together, and wasn't that impressed.
I also forcefed Dave my No Bake Cookies that I made last week, which are so yummy and high in calories that they need to be eaten pronto, and not by me!
On to this morning. Bright and early, I started prepping the dough for a roll of Vegan Bread, into which I threw some pesto, making it Vegan Pesto Bread.
Which I served with vegan butter (plant butter) and Red Lentil Soup.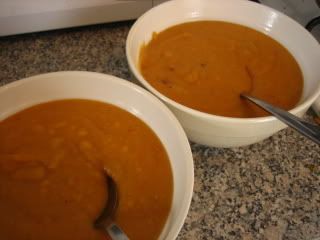 That sound that you just heard is my mother's jaw dropping to the floor.
Yes, mother, I not only made bagels and bread this weekend, but also….
which were wet on the one side, and slightly hard on the other, but still yummy!
So there you have it. And that's only about HALF of what I was planning for this weekend. There was just no time for the Stuffed Portobello Mushrooms, the Lentil Tacos, the Chocolate Peanut Butter Cake, and loads more!
We leave in 3 days for Rock Werchter, and now I am just worried about eating the leftovers by then!
If you are interested in this kind of cooking, I highly recommend the website VegWeb. Its a vegan heaven, and it is even rivalling MySpace for my internet time-wasting!
Whew, tired!
MySpace Comments:
Jamie


Posted by

Jamie

on Sunday, June 24, 2007 – 9:36 PM



Slush


Posted by

Slush

on Sunday, June 24, 2007 – 9:54 PM



Oana


Posted by

Oana

on Monday, June 25, 2007 – 10:16 PM