Hi friends.  Those of you who have known me for several (more than 8 years) may recall that I once looked like this: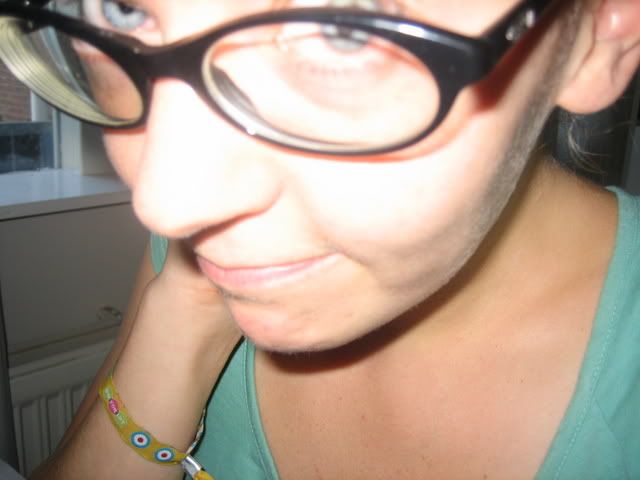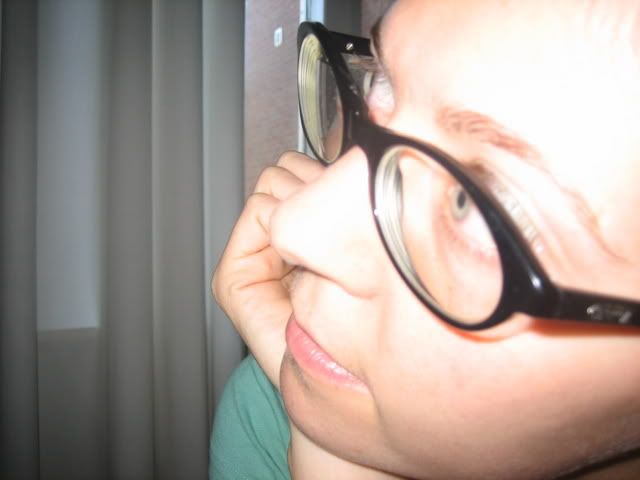 And no, I don't mean that spacey look in my eyes, I mean the glasses.  Yes, the pointy, black-rimmed glasses circa 1999 that I rocked, loving every minute of it.  Yes!  You remember them!  Those glasses that I completely grew old of, and sick and tired of, and probably my prescription also grew too different for.
Are you laughing?  Get used to it.  They are back.
My contacts have been fucking my eyes up lately, so I finally put them away for the time being, and then, while totally blind, I remembered that Lola chewed up my newer glasses (which I can't find anyway) and they now have bits and pieces sticking out all over the place, and one lens keeps falling out. So I had to resort to my 1999 glasses.
If you look closely in this shot, you can see several things:
a) my real eye color (YES! THEY WERE CONTACTS! STOP ASKING ALREADY!);
b)just how bad I needed those contacts (whoa concave view of my eyes!!!); and
c) whatever the hell is going wrong with the ring outside of my irises.
On another note, anyone got a good eye doctor here in Amsterdam?
MySpace Comments:
Jasper


Posted by

Jasper

on Thursday, August 23, 2007 – 7:26 PM
Dawn


Posted by

Dawn

on Thursday, August 23, 2007 – 11:15 PM
Dawn


Posted by

Dawn

on Thursday, August 23, 2007 – 11:16 PM
Slush


Posted by

Slush

on Friday, August 24, 2007 – 10:56 AM
Slush


Posted by

Slush

on Wednesday, August 29, 2007 – 2:51 PM