I was 7 years old when the realm of animal rights first opened up for me.  I can't remember exactly how it fell into my hands, but I received a pamphlet about the 'Save the Whales' campaign.  It listed about 20 humpback whales that you could 'adopt', with photos,and statistics such as size and weight.
At that age, I don't think I understood why the whales had to be saved, I just knew that I was the girl for the job.  At seven years old, if you had asked me what I wanted to be when I grew up, listed among the 'artist' and 'bartender' I would have also mentioned 'whale saver'.  I hung the poster of the whales on my corkboard and thought that I really had adopted one of them (not sure if I ever sent away the adoption form).  I thought that I was personally responsible for one of those whales, and that one day I would probably meet it and it would love me and let me pet it over the side of the boat.  In it's own whale-like way, it would thank me for saving it and a lifelong bond would ensue.
Apparently, I knew little in the way of whales and animal rights back then, but regardless, it was actually the whales that first introduced me to the animal rights world, and my compassion for needy animals grew from there.  However, as far as actually getting involved in animal rights, I have been late coming to the game, I'll admit.  For awhile I thought that my vegetarianism was enough, but in the grand scheme of things it wasn't, and I'm now trying to make up for lost time.
Fastforward 20 years to last summer, when I went to the Running of the Nudes protest in Pamplona and met a ton of like-minded people that were active in the animal rights world, as well as plenty that were also active in the human rights world.
One of these people was Laurens.  You may remember his bulging crotch shot from my photos of the protest (which actually was a photo of his that I stole, come to think of it).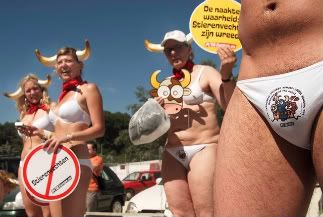 To be fair to him, here is a non-crotch shot (he's on the right).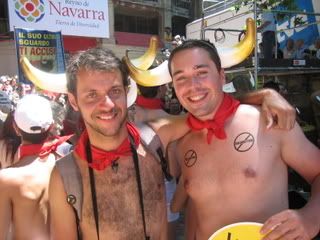 Laurens was a Dutch police investigator working on organized environmental crime, but when I met him he was just quitting his job and was waiting to move to Australia to be with his girlfriend.  He was a volunteer for Sea Shepherd, an organization that up to that point I had not heard of, but have run into many times since then at conferences, fairs, etc.
Sea Shepherd lives by the creed 'Less Talk, More Action'.  The founder, Paul Watson, originally co-founded Greenpeace, but then split to start Sea Shepherd so that he could be a little more active in the fight against animal abuse on the high seas.  You may remember the organization from the news last winter during the squirmishes with Japanese whaling ships in the Antarctic which gained international media coverage.  This organization is dead serious about saving the ocean's wildlife and will do everything in it's power to prevent oceanlife abuse, travelling to literally every end of this earth to meet abusers face to face.  They are not afraid of confrontation, to put it mildly.
Laurens has been on a few missions with Sea Shepherd, including a trip to the Galapagos Islands to train the law enforcement there.  He is a complete inspiration to me, and I feel really lucky to have someone like him to turn to for AR advice, or just motivation in general if I need it.  Everyone should have someone in their life like this.
So the other week when he sent me this link, my heart swelled five times its normal size.  I was so happy for him and everything that he is doing.  It's crazy, but I feel really PROUD of him!
This series, Whale Wars, starts on Animal Planet this Friday 7 November at 9 pm eastern time.  It looks so good!  Please try and watch it!  A big up to Animal Planet, as well, for taking on such a controversial topic!  It's not all fluffy cuddly stuff, people!
Whale Wars Trailer on the Animal Planet Discovery Channel
or
Whale Wars Trailer on YouTube
Laurens is seen throughout this whole trailer.  He's the guy who says 'That ship stands for everything I hate'.  In fact, they made a promo ad with just him.
Here is a man doing what my seven year old heart only dreamed of.  He is actually out on the open ocean face to face with the whale killing industry.  He is saving the whales.  Had you introduced Laurens to my seven-year-old self from 1987, I would have written his name on my trapper keeper surrounded by curly hearts and flowers.
Amanda: I'm totally going to spread this around and tell people that I know you.  That I TOUCHED YOUR ARM (I'm sure I must have at some point right???).
Laurens: hahaa
Laurens: didnt we dance as well :_)
Amanda: oh yeah at the cafe at the campsite
Laurens: yeah exactly
Laurens: we ran naked through pamplona, that we did
Amanda:
Laurens leaves next month for another mission to Antarctica, Operation Musashi, so here's wishing him and the Sea Shepherd crew a HUGE GOOD LUCK!
If anyone is interested in supporting Sea Shepherd or reading more about what they stand for, here is the link to the organisation: http://www.seashepherd.org/
Also, a Save the Whales Again! campaign, spurned from the original Save the Whales campaign that got my little heart interested.
And don't forget to watch 'Whale Wars' this week!